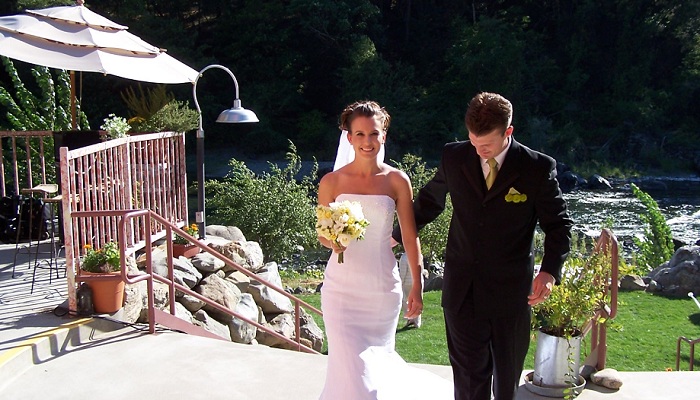 Outdoor Wedding Venue in a River Setting
Weddings, family reunions, and retreats at the Strawhouse are quickly becoming the number one choice in Northern California for creating a unique and memorable experience. You cannot beat the beauty and sound of the green waters of the Trinity River, all viewed from the beautifully landscaped Strawhouse Resorts.
Strawhouse Resorts is honored to be part of so many wedding celebrations and other events, and we look forward to helping you design the wedding or event of your dreams.
Strawhouse Resorts, located along the beautiful Trinity River and next to the majestic Trinity Alps Wilderness Area, provides a stunning location that can accommodate both indoor and outdoor events. The outdoor site hosts the stunning Trinity River as your background surrounded by colorful landscaped gardens and lush green grass.  The indoor site is our spacious Lodge and can be used in case of unexpected weather. We can accommodate up to 150 people. Our theme is "Simple Elegance," and our staff is dedicated to providing you with the wedding or event of your dreams.
Photos generously provided by:  Muir Adams Photography, Arcata Photo Studios
Essence Photography Studio, 530.440.3450
The Wandering Photo Booth, 707.599.7182, Michelle Thorwaldson
Floral and Wedding Designer/Wedding and Special Occasion Planner – 707.498.1717, Jasmijn Kozlowski
Flowers by Lisa Dixon – 707.889.1078 or 530.227.2968
Alpine Glow Mobile Skin Studio – Hair and Makeup, Chasity Still, 530-410-1922
Cake Recommendations:
U-Rok Bakery, Baking from the Heart – Jacquelyn Jai Waggoner, u.rokbakery@icloud.com, 530-515-2370
Music Recommendations:
Patty Vanourney – wedding/event DJ and karaoke. Provide outdoor and indoor services – 707-951-0448 – Rockindjpatty@gmail.com
Mojito Latin Jazz Band – contact Brian Vaughn – 530-623-7129
DJ/Sound Systems/Photo Booth Rentals – 530-515-6465 – Netsound Professionals
The Gatehouse Well – 707-599-8470