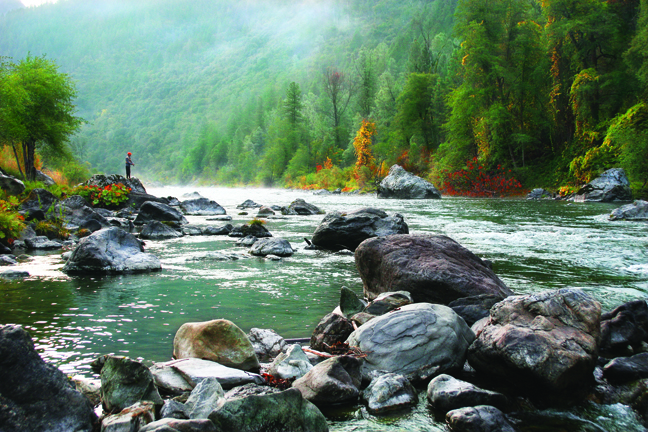 Fishing on the Trinity River
Convenience for Our Fishing Guests is our Priority!
Join Strawhouse for comfortable lodging, quality meals, and a great setting along the stunning Trinity River. The Trinity River in Northern California is one of the most scenic rivers in the Northwest and provides some of the best year-round fishing. Also rated one of the top 8 fly-fishing rivers in the United States for incredible Steelhead, Salmon, and German Browns. There is no better place to stay on the Trinity River!
Steelhead season runs year round with the peak of the season being September-January. During this time, you will also catch German Browns. These fish respond very well to swinging flies, drifting bait and roe, artificial-like wee warts, and other plugs and spinners.
Salmon have two distinct runs: the Spring run which begins in June and runs through August; and the Fall run which begins in September and runs through early November. Back trolling plugs and bait is usually the most successful game in town!
Guide Services
Fish Kennedy Brothers
Lonnie Boles – 530-739-0444, fishslayer.lb@gmail.com
Forrest Brizendine, NorCal Fishing Guides, forrest@norcalfishingguides.com, (530) 921-5507 – Forrest is generously running specials through December 2021.  Call him for a discounted rate, and when you stay with us and fish with Forrest, we'll serve you a fabulous dinner on the house!  Be sure to mention this when you book your stay with us. 
John Fochetti Fly Fishing – 916-337-8598
Gino Bernero, Confluence Outfitters – 916-952-0467
Steve Huber Guide Service – 530-623-1918
The Fly Shop – 800-669-3474
Colton Schwenning – 530-227-1937, schwenning.colton@gmail.com
Bill Dickins – 530-623-1905
Jack Trout – (530) 926-4540
Tiger T's Guide Service, Todd LeBoeuf – 530-222-2728
Fly Shops
The Fly Shop – 1-800-669-3474
Trinity Fly Shop – 1-530-623-6757
Strawhouse Resorts is a proud supporter of California Trout, Inc.