As a kid Sharon always enjoyed doing any kind of art, from coloring and painting, to designing entire farms and animals using cardboard, paint and scotch tape. She told her mom she wanted to be an art teacher! Instead Sharon got married, had two wonderful kids and did tole painting, ceramics and sewing on the side. She began quilting with friends and loved the designs and colors and textures.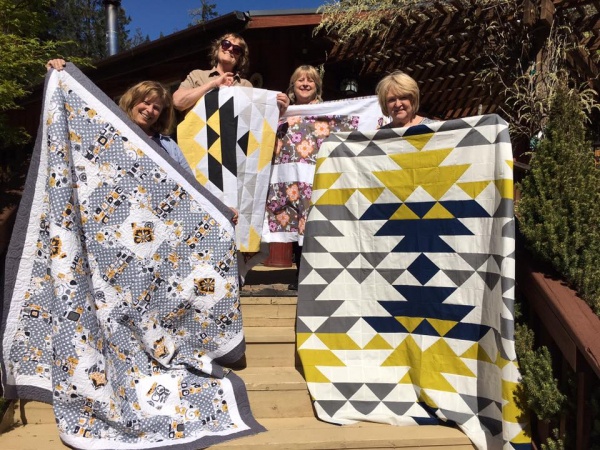 Sharon also did interior painting for a number of years because she loved what color can do to a home. When her husband, Rod, retired and they moved from Fortuna to their cabin in Trinity Village, her sweet guy built Sharon her very own craft & sewing room and life was good! Sharon began sign painting for fun using reclaimed wood because she loved quirky sayings.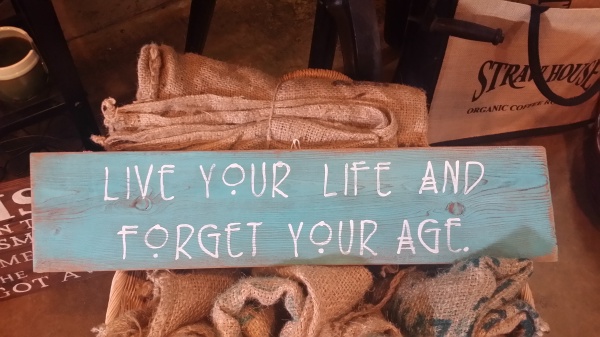 She started selling them at craft fairs to pay for the supplies. She loves any old wood that she can find and has a blast using all her husband's saws, tools and sanders – and once again all the colors of paint! So Sharon's sewing room has also become her painting room, too! She did some beading with a friend and loved all the shiny beads and metals, but found she liked just organizing and playing with the colors and shapes rather than actually making jewelry. When Sharon saw a stone mosaic at the Strawhouse Cafe' several years ago (made by another amazing local artist), she knew she wanted to try it! So she dove right in when a friend gave her a bunch of glass from his shop and some tools. It was love at first try!!! River rocks (she's always loved rocks), glass (shiny and bright), beads (shiny colors and beautiful shapes) old plates and old jewelry, patterns, designs…she loves them all! So now her quilting room had to accommodate mosaics!!! She thinks she needs a bigger room but hubby says no….she's already taken over half his shop! Sharon loves creating something that others love and appreciate….to play with colors and shapes, funny sayings or designs and making quirky one-of-a-kind art.
She never grows tired of it and is blessed to have the time and space to create, along with a wonderful husband who made a way to make it happen and the freedom to do it all! To Sharon, almost everything can be used as art, and so began the obsession with collecting old things and repurposing them. She has to try to remain focused on just a few art forms to actually create and not just collect! She finds Pinterest is great for ideas, but instead of just pinning ideas she actually tries to make them!! Sharon's talent adorns the Strawhouse inside and out, and we encourage you to come check out the beautiful things she loves to create!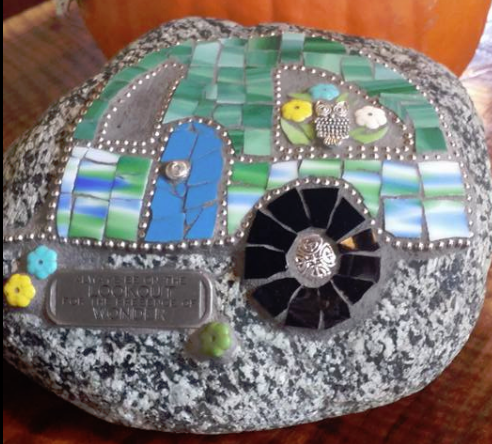 Another thing that Sharon loves to do is come to the Strawhouse and share her gift with others by having Mosaic Rock classes. Her next classes are April 29 & 30th (check our calendar or Facebook page for more details). Thank you Sharon for sharing your awesome creativity with the world!