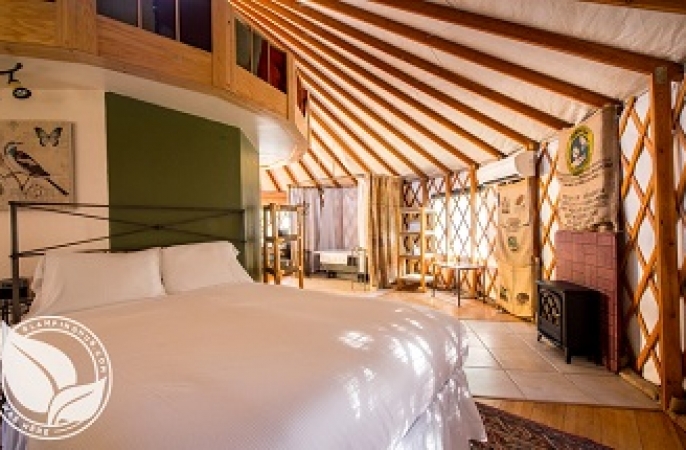 The word "vacation" means something different to everyone. To some, it means lounging on the beach or by the pool of a resort. For others, it might mean traveling somewhere exotic and squeezing in all of the culture and sightseeing you can.
Some people are still searching for their ideal vacation; something that offers the perfect combination of relaxation and exploration. If that sounds like you, then a glamping experience might be exactly what you're looking for!
What is glamping?
The term "glamping" is short for glamorous camping. Essentially, it's a more modern and luxurious spin on traditional camping. When you're camping, you're sleeping in a tent or under the stars and cooking your food over a fire. When you're glamping, you're staying in a cabin, RV, or other structured shelter with all of the amenities you're used to, such as running water, plumbing, cooking appliances, comfortable sleeping space, heat/AC, and sometimes Wi-Fi.
Glamping allows you to enjoy the great outdoors with all of the conveniences of home. It's the perfect getaway for families with young children, inexperienced campers, or anyone looking for easy comfort with access to the beauty of nature.
Where can you go glamping in the Trinity Wilderness Area?
The Trinity Wilderness Area is a stunning spot for a glamping trip—and Strawhouse Resorts can offer you multiple glamping accommodations! For glampers seeking a more romantic, atmospheric, or luxurious experience, our Pacific Yurt has a lot to offer. In addition to all of your essential glamping amenities, you'll also enjoy luxury features like a fireplace, loft with a skylight, clawfoot tub, and easy private access to the Trinity River next to our café.
If you're looking for a simpler, but just as comfortable, glamping destination, then our river-view cottages are sure to please. Set on the banks of the beautiful Trinity River, our cottages are more like tiny homes with all your must-have glamping features like a kitchen, full bathroom, private bedroom, and furnished living and dining areas. Plus, you'll have your own private deck to look out onto the scenic river while enjoying your morning cup of organic coffee or evening glass of wine.
Whether you're glamping in the yurt or a cozy cottage, you'll be able to get your fill of camping from all the outdoor activities there are to try just around the corner in the nearby Trinity Wilderness Area.
Don't miss out on a one-of-a-kind glamping experience. Get in touch with Strawhouse Resorts today to book your next vacation rental!